Shri Tyagaraja Mahatmyam –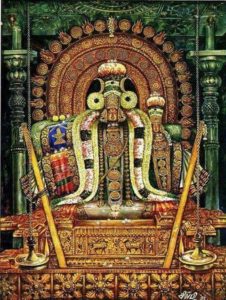 Sri  TyagarajaMahatmyam  – Text with English and Tamil
ஸ்ரீ த்யாகராஜ மாஹாத்ம்யம்  – தமிழ் மற்றும் ஆங்கில அனுவாதத்துடன்
"Tyagaraja" is the presiding devata at Tiruvarur or Kamalalaya (the birth place of Shri Shyama, Shastri, Shri TyagarajaSwamigal and Shri Muttusvami Dikshitar) and other six kṣetras collectively known as the Saptavitanka Sthala-s. Tyagaraja is siva in the form of Somaskanda. This devata-svarupa true to the name signifying the fourth purushartha as 'tyaga' as Shri Venkatamakhi states in his mangalacharanam to the Chaturdandiprakashika has inspired many sanyasis and yogirajas and paramahamsas. One such yatindra was Shri Paramasivendra Sarasvati Svamigal, the 57th Acharya of Shri Kanchi Kamakoti Pitham. The Dashapurāna-sangraha or Tyagaraja-Mahatmyam presented here is a "sangraha grantha" (compilation) that this Acharya created by painstakingly culling information pertaining to ShrI Tyagaraja from various puranic sources. It is noteworthy that many of the published recensions of some of these purāņas do not have these verses as some of these are available in Southern recensions only. Hence, these verses are valuable sources of information about these kṣetra.
On this auspicious Shravana shukla dashami day of Shri Paramashivendral's aradhana, due to the anugraha of acharyas, we are happy to make a copy of this book available in PDF Format for astikas and admirers of Shri Muttusvami Dikshitar alike.
Thanks are due to Shri. B. Ganapati Subrahmanian, Karaikkal for his encouragement and support and to my guru Brahmashri Nerur Dr. V. Shriramana Sharma for his guidance.