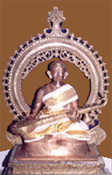 This site is for the archival of texts and translations, essays, articles and indices relating and pertaining to South Indian Classical Music (Carnatic music).
'Guruguha' is the signature of the carnatic composer Muttusvami Dikshitar who lived in South India during the period 1776-1835 AD. This site is named after the unique approach
of the composer with an emphasis on reconstructing the music of the past with the music of the present.
Contact : Vidya S Jayaraman, vidya at guruguha dot org