[simple-author-box]
Prologue:
The world of Carnatic music has sired many a great musician in the past. We do have oral as well as recorded accounts of many of such great personalities. One amongst them, featured in this blog post is Tiruvisanallur "Pallavi" Narayanasvami Iyer a giant from another era. My introduction to his name was through an oral account to the effect that the legendary Semmangudi Srinivasa Iyer learnt Muthusvami Dikshita's kriti "Sri Ramam Ravikulabdhi somam" in Narayanagaula from Pallavi Narayanasvami Iyer. My attempt to know more about this personality, fructified finally when I got hold of a brief biography of this great musician, published by the Madras Music Academy in one of its early Journals, written by his son Vidvan T N Radhakrishna Iyer (see reference section below).
From this account, it is seen that Narayanasvami Iyer lived for about 60 years of age somewhere during the time period between 1860-1930. He has been known as "Narayanasvami Anna" or "Tiruvisanallur Narayanasvami Iyer" or "Pallavi Narayanasvami Iyer".
Biography in brief:
One Narayana Avadhani, a polyglot who had mastered the Yajur and Samaveda had two sons Krishna Bhagavathar (elder) and Sundara Bhagavathar (younger) who were both one of the prime disciples of Saint Tyagaraja and were the votaries of the Umayalpuram school of the Tyagaraja sishya parampara.
Narayanasvami Iyer was the son of this Sundara Bhagavathar and trained under him. Apart from father, he also trained under Tiruvisainallur Subramanya Iyer, a disciple of Krishna Bagavathar, his uncle. Even at a very early age, Narayanasvami Iyer achieved very good proficiency in music. An early break for him came when his father took him to Kumbakonam to introduce him to Munsiff Venkacchi Iyer a wealthy patron of those days. Fortuitously for him, the great vidvans of those times Bikshandar Koil Subbarama Iyer and Maha Vaidyanatha Iyer (1844-1893) too were at Kumbakonam to meet Munsiff Venkacchi Iyer as well. Young Narayanasvami Iyer at Venckacchi Iyer's bidding performed in front of them and was greatly appreciated. In fact, so impressed were the assembled cognoscenti that he was asked to sing along with Maha Vaidyanatha Iyer in a concert scheduled for the following day. And needless to add Narayanasvami Iyer acquitted himself creditably by singing with elan earning recognition as well as gifts from his patron. Maha Vaidyanatha Iyer was apparently very much impressed with Narayanasvami Iyer's svara singing acumen.
There was no looking back thereafter for the young Narayanasvami Iyer. He was adept in every department of performing music and specifically in pallavi exposition and extempore svara singing. So much so that in recognition of his prowess, as we will see, the epithets "Pallavi" and "Svarakalanidhi" came to be prefixed to his name and he came to be addressed with them by one and all, with awe during his life time.
His vidvat blossomed forth as a vaggeyakara as well and he composed exquisite cittasvara sections to very many Tyagaraja compositions. Apart from vocal music, Narayanasvami Iyer also played the Gottuvadyam as well.
With his fame reaching far and wide, Panditurai Tevar, the Zamindar of Pazhavanattam and the maternal uncle of Bhaskara Setupati of the Royal House of the Sethupatis of Ramanathapuram ,and one of the great patrons of those days, sought Narayansvami Iyer's services to provide advanced training to the then young and upcoming musician Poochi Srinivasa Iyengar ( 1860-1919) in pallavi and svara singing. Consequently Narayanasvami Iyer moved to be at Ramanathapuram to teach the young Poochi for some time.
When the great Maharaja of Mysore Nalvadi Krishnarajendra Wadiyar IV ascended the throne in 1902 , Pallavi Narayanasvami Iyer was one of the musicians invited to perform in the coronation celebrations and he did so magnificently earning the respect of the assemblage of the great vidvans of those days, which included Veena Subbanna, Veena Seshanna, Namakkal Narasimha Iyengar, Umayalpuram Svaminatha Iyer and others. Veena Subbanna being the dean of the musicians of the Mysore Royal Durbar, at the end of Narayanasvami Iyer's recital, on behalf of the Durbar and the assemblage, conferred on him the title of "Svarakalanidhi" and reminisced that Narayanasvami Iyer's svara singing reminded him of Mysore Sadashiva Rao's (of Tyagaraja sishya parampara) singing.
Soolamangalam Vaidyanatha Bagavathar (1866-1943), the legendary harikatha exponent in his memoirs recalls with rapturous delight a concert of Pallavi Narayanasvami Iyer, which was arranged on the occasion of the legendary Flute Sarabha Sastri's 'seemantham" held to herald the arrival of Sastri's first child. In that concert Narayanasvami Iyer was accompanied by the veteran Thirukkodikaval Krishna Iyer (Semmangudi Srinivasa Iyer's maternal uncle) on the violin and Pazhani Krishna Iyer on the ghatam. Narayanasvami Iyer rendered the pallavi "hrudaya kamala vasa hare krishna" in the raga Sankarabharanam set to adi tala. According to Soolamangalam Vaidyanatha Iyer, Narayanasvami Iyer sang kalpana svaras for the pallavi, crafted so beautifully as if they were ettugada svaras of a varna! And Bagaavathar adds that in that concert the two accompanists were "Nara-Narayana" in their performance.
Soolamangalam Vaidyanatha Iyer also records that Tirukkodikaval Krishna Iyer was the stock accompanist of Narayanasvami Iyer for the later's concerts Narayanasvami Iyer taught many sishyas as well, which included Thiruppazhanam Panchapakesa Sastri (1868-1924) – see Epilogue below- Nallur Visvanatha Iyer, Thirukkarugavur Fiddle Narayanasvami Iyer, Paravakkarai Narayanasvami Iyer, Fiddle Seetharama Iyer, Coimbatore Thayi and others. There are references to the effect that the famed Violin vidvan Kumbakonam Rajamanikkam Pillai too trained under him.
Narayanasvami Iyer was on a very intimate acquaintance with the legendary flute vidvan Kumbakonam "Venugana" Sarabha Sastri (1872-1904), a junior contemporary. The two apparently performed together in concert very many times. The same is recorded both by Narayansvami Iyer's son and by Sulamangalam Vaidyanatha Bagavathar. The Bagavathar in his memoir records one such recital, which he himself had organized at his house for a "Radha Kalyana Utsava" wherein Narayanasvami Iyer had rendered a brilliant svara kalpana for a Begada main composition on that day.
In the context of Pallavi Narayanasvami Iyer having composed cittasvaras for compositions, Sri T S Parthasarathi in his article in the JMA advances the proposition that according to the senior vidvans of the late 19th and early 20th century, Tyagaraja did not compose cittasvaras for his compositions and they were composed much later by his sishyas in his parampara. Sri Parthasarathy cites with authority that:
The cittasvara section ( GRSN SRPN SRNRS ….) for "mamava satatam" in Jaganmohini was composed by Walajapet Krishnasvami Bagavathar
Cittasvaras are found added by Veena Kuppier for "Endu daginado", "Jesinadella", "Tappi Bratiki" (all in Todi), "Kanna talli" (Saveri) and "Sundari nee" (Kalyani)
Added to the above as also seen in earlier blogs, that we can authoritatively state that:
The popular cittasvara to the Malavi kriti "Nenaruchi naanu" was composed by Tirukkodikaval Krishna Iyer.
Cittasvaras were composed by Mazhavarayanendal Subbarama Bagavathar as found recorded in his notebooks.
Sri T S Parathasarathy records that Pallavi Narayanasvami Iyer composed cittasvaras for kritis such as "tsalagalla" in Arabhi, though it is not stated whether the popular one rendered today beginning "S,SDP-PPMM GRRS" is that of Narayanasvami Iyer's.
Musical Creation of Narayanasvami Iyer: Narayanasvami Iyer who was held in awe both by the lay and the cognoscenti of those days, is said to have lived for about 60 years. His ishta devata was Lord Rajagopala of Mannargudi, who has been musically venerated by Patchimiriyam Adiyappa ("Viribhoni" -ata tala varna in raga Bhairavi) and Muthusvami Dikshita ("Sri Rajagopala" in Saveri and "Sri Vidya Rajagopala" in Jaganmohanam). Every year Narayanasvami Iyer apparently undertook a pilgrimage to Mannargudi to have the darshan of Lord Rajagopala and one year he composed a varna in raga Durbar, set in adi tala, which has been published in the JMA along with his biography as written by his son. The varna is not seen published in any other publication nor is it rendered on the concert platform. The notation of the varna in Tamil as recorded in the JMA is provided herein below along with the translation in English.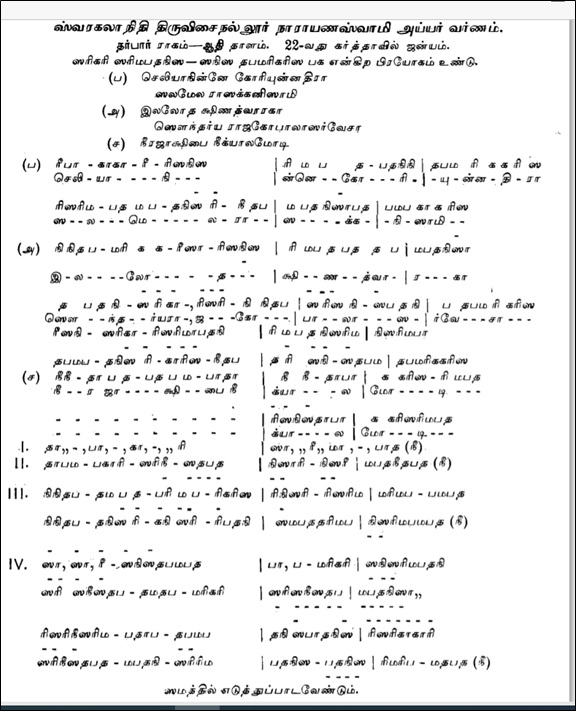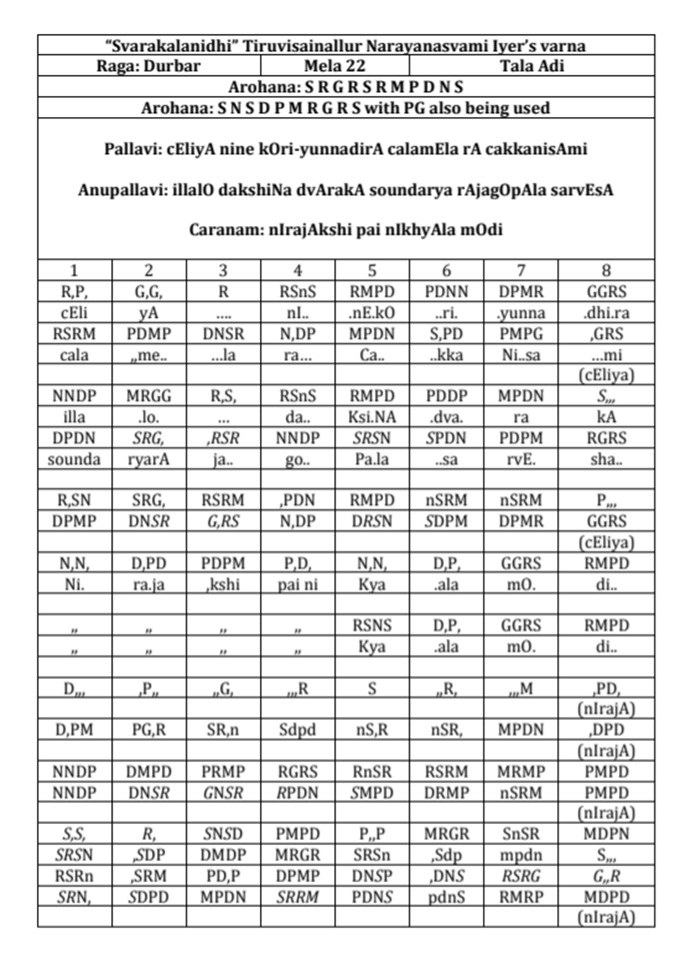 Observations on the varna:
The varna having being published by his son thus attests to the high fidelity of the notation available to us through the aforesaid JMA article. The following observations merit our attention:
Firstly, that strikes one is the way in which the arohana and avarohana krama of the raga Durbar is provided as recorded by Narayanasvami Iyer in his notebook. The vakra sancaras accommodated in the progression/krama along with the reference to PG is to be reckoned.
The composition features these vakara sancaras to the tee.
The sahitya, akin to "Viribhoni" and "Sri Rajagopala" hails the ksetra as "Dakshina dvaraka".
The carana portion is exquisitely structured with the jiva svara patterns of Durbar.
Interestingly the notation itself provides 2 variations/sangathis for the carana sahitya section beginning "nIrajAkshi"
The third cittasvara passage as per the old convention is modelled as sarva laghu.
It has to be pointed out here that apart from the ubiquitous "Chalamela" of Tiruvottriyur Tyagayyar which is the only varna in this raga which is heard often, the others known to us are of Subbarama Dikshitar ("intamodi" ata tala tana varna) and Patnam Subramanya Iyer ( "Dari teliyaka" – khanda ata tala).
Did Pallavi Narayanasvami Iyer give Gramophone Recordings?
Michael Kinnear in his book "The Gramaphone Company's First Indian Recordings -1899-1908" catalogues 10 Inches H Suffix Series of Gramaphone Records wherein an artiste tagged as "Tiruvisanallur Narayanasami Iyer" dating to 1907 has recorded a bunch of compositions, in what seems to be a full-blown concert. There is another Narayanaswami Iyer ( of Pudukkotai) whose music has been recorded and he is a violinist which helps in avoiding the confusion.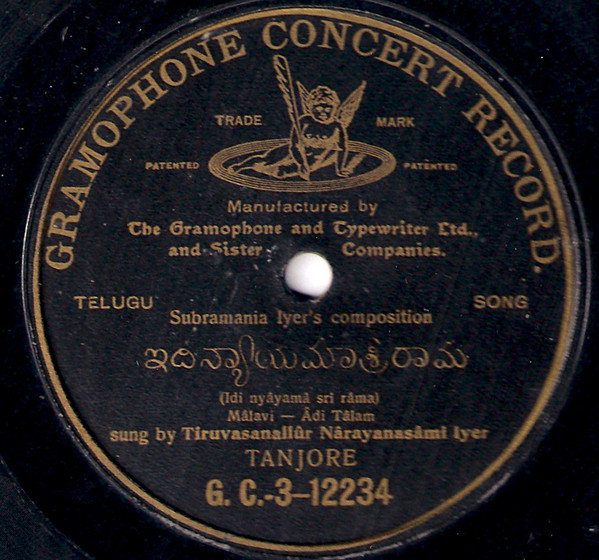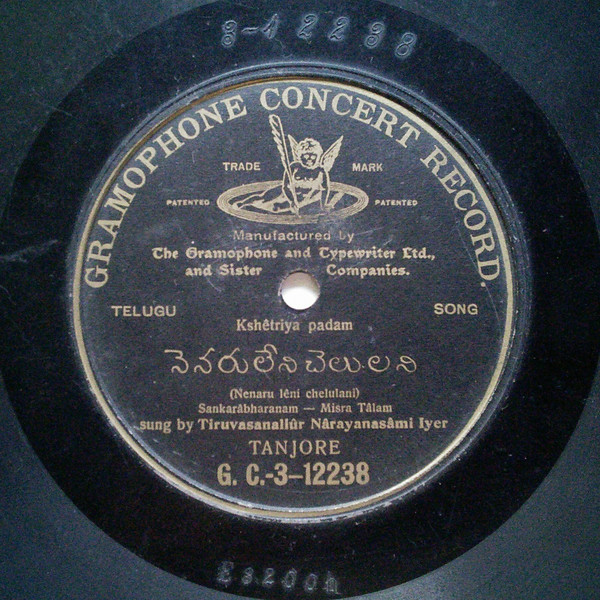 The web page below hosts a clipping for one such piece tagged to "Tiruvisanallur Narayanasami Iyer"
https://www.muziekweb.nl/en/Link/KJX3705/Indian-talking-machine-78-rpm-record-and-gramophone-collecting-on-the-sub-continent?TrackID=KJX3705-0021
(hit the URL and browse down to entry 21 which is Tiruvasanallur Narayanasami Iyer – Sanskrit Song Part -1)
One is not sure as to the identity of the person, but yet here is something for us to chew upon.
Conclusion:
While at least something is known about these great vidvans of the past, it is unfortunate that their musical works such as varnas, kritis and cittasvaras have been lost and forgotten. In an earlier blog post on Mazhavarayanendal Subbarama Bhagavathar it was pointed out that though the Music Academy was entrusted with his notebooks recording in writing, Bagavathar's musical creations, yet the same remains lost and untraced. In the instant case of Pallavi Narayanasvami Iyer, his son Vidvan Radhakrishna Iyer while writing the piece in the JMA, does indicate his wish to publish his father's works as available with him, but yet nothing seems to have seen the light of the day. The musical note books of Tiruppamburam Natarajasundaram Pillai, recording the kritis of Muthusvami Dikshita as taught to him Satanur Pancanada Iyer and also Pancanada Iyer's own note books documenting his own compositions have suffered a similar fate. It is sad that with the passage of time, the probability of recovering any of these just recedes exponentially. In the case of Pallavi Narayanasvami Iyer the only creation of his available with us is this Durbar varna.
From a familial perspective, it is not known how Pallavi Narayanasvami Iyer acquired the link to Tiruvisainallur while his father hailed from Umayalpuram. All that is known is that Narayanasvami Iyer had two sons one of whom was Vidvan T N Radhakrishna Iyer. It would be worthwhile to know if there are any surviving descendants in the lineage of Narayanasvami Iyer and if they still have those notebooks recording not just the creations of Narayanasvami Iyer but also of Saint Tyagaraja as Narayanasvami Iyer was the 2nd generation disciple in his sishya parampara/lineage.
As always one hopes that our vidvans would take up forgotten compositions like this Durbar varna, burnish them up and render them, in the days to come so that the memory of these great souls would live on along with our music.
References:
"Svarakalanidhi Narayanasvami Iyer" – Article in Tamil – Author Sangita Vidvan T N Radhakrishna Iyer – Journal of the Music Academy Madras (JMA) Vol II No 4 (Year 1931) pp 223-226 – Edited by Sri T V Subba Rao
"Tiruvisainallur Narayanasvami Iyer" – Part XVI on page 100 – "Cameos" – A collection of writings by Soolamangalam Vaidyanatha Bhagavathar – Portion translated by Ms Padma Narayanan – Published by Sunadham (2005)
"Svara decorations in Carnatic Music" – Article in English – Author T S Parthasarathy – Journal of the Music Academy Madras (JMA) Vol LVIII 1987 pp 154-159– Edited by Sri T S Parthasarathy
"The Gramaphone Company's First Indian Recordings -1899-1908" -By Michael Kinnear (1994) Sangam Book – pp 157-158
Epilogue:
While I work to have the recording of the aforesaid Durbar varna done and uploaded here, I seek to conclude this blog post with a musical tribute to this great musician. It is recorded that Narayanasvami Iyer in the tradition of Tyagaraja was also a rama baktha. So a composition eulogizing Lord Rama and that too composed by his own disciple would be a worthy tribute to him.
Tiruppazhanam Panchapakesa Sastri, a disciple of Svarakalanidhi Naryanasvami Iyer, as mentioned earlier, was a legendary Harikatha performer of the 20th century. His most famous composition which lives on even today is "sApashyat kausalya", set in the raga Jonpuri and which runs as under:
sApashyat kausalyA viSNum sApashyat kausalyA (sApashyat) 
prasava sadana gatha mEnam pUSpAyudha shata kOTi samAnam viSNum (sApashyat) 
jaladhara shyAmaLa gAtram pankEruhadaLa sannibha nEtram viSNum (sApashyat) 
kaustubha shobhita kaNTam rAkA candra nibham vaikuNTham  viSNum  (sApashyat)
This composition preceded by a sloka such as "Shringaram kshitinandinim" or "Neelabja deha" in a raga malika format tailing into Jonpuri, was de-rigueur in Sangita Kalanidhi Semmangudi Srinivasa Iyer's concerts. I conclude this blog post with a rendering of this composition from one of his innumerable concerts.