O Goddess mInAkshI ! Princess of Kerala!
PROLOGUE:
The blog's heading may be a bit of a surprise. While, Goddess Meenakshi, the presiding deity of Madurai was a legendary Pandyan Princess and has been so eulogized by very many poets and composers, yet hidden in the heap of history and long forgotten is a Goddess Meenakshi, a look alike of her who made Kerala her home and thus veritably became a Queen of the Land of Parasurama and a tutelary deity enshrined in the precincts of the Palace of the Kerala Royals. And eventually while we shall look at a musical composition on this Meenakshi of Kerala in the process, we would also evaluate collateral historical information and remember a Royal who set up the Imperial House of Travancore (to which the musical composer Svati Tirunal belonged to) and who had a hand in this history.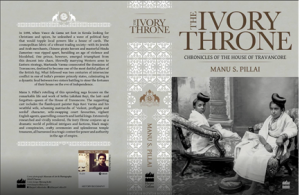 At the outset I should confess that the inspiration for this blog post came from another avid blogger Sri Sharat Sundar Rajeev, a professional conservation architect and a history buff and an original one at that!  Again, my interest in the Royal family of Travancore got kindled last year since reading the classic work "Ivory Throne- Chronicles of the House of Travancore" of Manu Pillai which went on to get him the Sahitya Akademi Yuva Purasakar. It's indeed sad that very many historical personages and events not to say of temples and other historical monuments lie forgotten. In these blog posts I have attempted to provide that insight as well even while we get to know and relish a raga or a composition. In other words, the idea is to know and enjoy the historical context as well when we get to hear, know or learn a composition.
Over to the Goddess!
FLASH BACK CIRCA A D 1635 – Tirumalai Nayak invades nanjil nadu/southern Kerala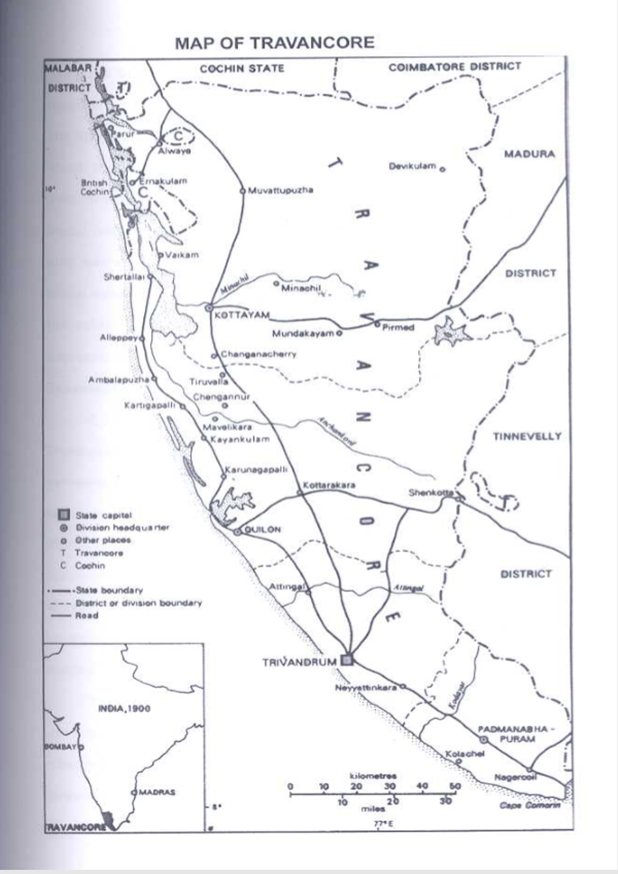 Tirumalai Nayak the founding father of the Royal lineage of the Madurai Nayakas ruled from Madurai, his regnal years being 1623-1659 AD. A vassal earlier to the Emperors of Vijayanagar, the Nayaks of Madura, after the collapse of the Vijayanagar Empire, in the epic Battle of Talikota had broken free and become rulers in their own right. Tirumalai Nayak was one of the greatest in that line. And when he ascended the throne, he ruthlessly went about expanding his empire and, in his conquests, laid siege to many of the small principalities of south western coastal regions of peninsular India. He was the Nayak King who moved the Capital from Trichirapalli to Madurai and thus his tutelary deity was Goddess Meenakshi enshrined at Madurai. Tirumalai Nayak thus adopted the ancient signage of the erstwhile Pandyan sovereigns, imparting both political as well as religious legitimacy to their power by anointing Her as his kuladevata. Royals of those days, to derive power and authority always aligned themselves and their lineage to a well known and fiercely venerated Temple and/or godhead. Lord Tyagaraja at Tiruvarur, Lord Brihadeeswara of Tanjore, Lord Rajagopala at Mannargudi are classic examples where the reigning Kings and Chieftains took those deities to be their mascots and shortly we will see that the Royal House of Travancore took it a step further. (See Note 1)
Tirumalai Nayak circa 1635 forayed into nAnjil nAdu (vide Satyanatha Iyer 's 'Nayaks of Madura" page 121) being modern day southern Kerala, which shared its borders with his kingdom. Kerala at that point in time, was an aggregation of small principalities and for the powerful Nayak King they were no match. History has it that perhaps as a mark of his conquest and victory, Tirumalai Nayak perhaps renovated and consecrated the 13th century temple at Padmanabhapuram, the imperial seat of the Royals of Travancore, modelled on the Dravidian architecture, rather than the typical Kerala style, and installed the icon of his tutelary deity, Goddess Meenakshi therein. And legend has it that he ensured that the mUla vigrahA or idol in the sanctum sanctorum too was stylistically made on the lines of the one at Madurai, complete with a parrot on her hand! Unsurprisingly he named this deity too as Goddess Meenakshi, in the process transplanting the hoary history of the Pandya Princess into the Land of Parasurama.
And thus, while history has left us with this piece of information, if one were to embark on a search today at Padmanabhapuram, for this Nayak enshrined deity, it will yield no Goddess named Meenakshi!
CIRCA 1720 – The House of Kulashekaras or Kupakas, the Travancore Royal Family, assume sovereignty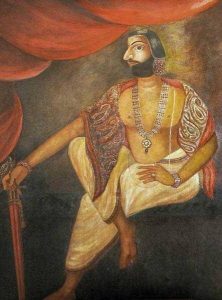 Venad, the strip of land which stretches from Attingal to Kanyakumari in modern day Kerala was the small principality nominally ruled by the Royals of the House of Travancore or the Kulashekaras or the Kupaka dynasty as they were held, with their seat at Padmanabhapuram.  Emasculated of their power they were nominal figureheads while, the real power lay with two entities. One being the Ettuveetil Pillamar (Lords of the Eight Houses) an aggregation of powerful Nair nobles, on one hand and the powerful Ettara Yogam which was an entity which managed and controlled the Temple of Lord Padmanabhaswami at Travancore. And it was at this point in time that in this Royal House of Kulashekaras/Kupakas was born Prince Marthanda Varma, known later as Anizham (Anusham- the star) Tirunal Marthanda Varma (born 1706 AD) whose regnal years was AD 1729-1758. When he ascended the Ivory throne, he quietly went about consolidating power by annexing the principalities of Quilon, Kayamkulam, Kottarakara, Ambalapuzha & Changanaserry. Marthanda Varma extended his dominions further by taking control of the holdings of the Kings of Cochin and the Zamorin of Calicut. In the famous Battle of Colachel (circa 1741) he defeated the Dutch who had interceded on behalf of the Kottarakara Royals and in the process, he became one of the handful of sovereigns of the sub-continent who had defeated a European colonial power. And finally, years later the Dutch completely succumbed to his suzerainty when they signed the Treaty of Mavelikkara which for all practical purposes anointed him Marthanda Varma as the Lord of Keralaputras. Assisted ably by his trusted Prime Minister ("Dalavai") Ramayyan , he consolidated the Kingdom of Travancore, ushered in reforms and cut to size the entities including the Ranis of Attingal, the Ettuveetil Pillamar and the Ettara Yogam being the Devaswom Board known as Yogakkaras. (See Foot Note 2). Also realizing that all battles cannot be won militarily, Marthanda Varma calculated that he had to sue for peace with external powers as necessary including the British who were on the anvil of getting a toehold in Southern India. And so, he entered into friendship treaties including the one with the Nayaks of Madurai, who anyway by that time were a spent force. And thus, within a century after Tirumalai Nayaka had seized Padmanabhapuram, the Kulashekaras of Travancore had regained the place back, making the Royal Estate and the Palace there as their imperial seat of power. And in fact, it was his edicts and the policy that he set, which was followed to the T by his descendants all the way till 1950 when Travancore was subsumed by the Indian Union.
But Marthanda Varma wasn't done yet. Even as he consolidated his hold over the entire Venad, he was about to perform an act that no other sovereign before him had done, which would endure all the way up to the 21st Century.
17th January 1750 – Truppadidanam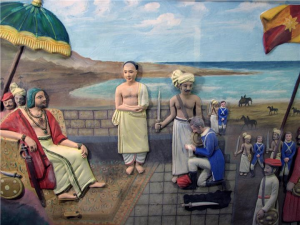 Whether it was a political master stroke to enable his suzerainty and establish and completely legitimise the rule of his Royal House of Kulashekaras into perpetuity or whether it was his unbridled devotion to Lord Padmanabha, we do not know. (See Note 5). On this date January 1750 AD, when the then 44-year-old Marthanda Varma who was at his very pinnacle of glory, made his coup de maître.
History tells us that this great King went in all pomp and splendour to the Temple of Lord Padmanabhaswami and in a ceremony called 'thruppadi dAnam' he laid down all his Royal regalia including his ceremonial sword before the Lord and dedicated all that he had including the kingdom to Lord Padmanabha. Travancore as a whole, thus became the property of Sri Padmanabhaswamy, the deity of the Travancore Royal family or in other words it became "God's Own Country" as Kerala is called today!
In essence Marthanda Varma firmly ensconced himself as a mere vice regent or nominee of Lord Padmanabha/a mere dAsA who would rule for and on his behalf! Adversaries and foes would dare not wage a war again against his Kingdom for its Ruler was Lord Padmanabha himself.
And then on Anusham Tirunal Marthanda Verma went on to assume the complete Royal title "Sri Padmanabha Dasa Vanchi Pala Anusham Thirunal Marthanda Varma". After this date all sovereigns of the Kulashekara/Kupaka House ruled in the name of Lord Padmanabha, with this title. In fact, Marthanda Varma went on to lay down the protocol that all Royal children in the matriarchal line as was the line of inheritance in the Royal families of Kerala, upon attaining the age of one would be laid before the Lord as a symbol of this dedication. Even female rulers adopted a corresponding title, for example Rani Gauri Lakshmi Bayi who was a Regent was titled as "Sri Padmanabha Sevini Vanchi Rajeshwari Maharani Ayilyam Thirunal Gowri Lakshmi Bayi, Attingal Mootha Thampuran, Rani of Travancore".
Goddess mInAkshi, the giver of eternal bliss becomes Goddess Anandavalli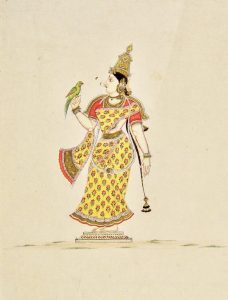 Having made this lasting contribution to the history of his Kingdom, this sovereign Marthanda Varma perhaps one fine day sometime circa 1755 turned his attention to the quaint temple of Lord Neelakantaswami near the precincts of his Padmanabhapuram palace which was his imperial seat. It was his successor Karthika Tirunal who in 1795 AD shifted the imperial seat from Padmanabhapuram to Travancore.
And Marthanda Varma must have mulled the fact that it was his Nayak ally, the sovereign of Madurai then back in 1635 AD nearly 100 years ago, who had consecrated this Temple and named the consort of Lord Neelakanteswara as Meenakshi, after the great guardian deity of Madurai, building it completely in the Dravidian style. And he perhaps thought that without in anyway erasing the legacy of the Temple or remodelling or rebuilding the temple in the Kerala style, wanted to just make a symbolic change perhaps by anointing the Goddess anew with a different name. Was it that perhaps in gratitude of this Goddess having gotten him what he wanted in life, did he deign to change the name of the Deity? One does not now, but we do know for sure that this padmanabha dasa during his reign went on to change the name of Goddess Meenakshi to Goddess Anandavalli, the giver of eternal bliss!
And thus, ends our search for that old Goddess Meenakshi of yore consecrated by Tirumalai Nayak. History tells us this for sure and whence one gets a chance to visit the Temple of Lord Neelakanteswara and Goddess Anandavalli nee Meenakshi, today at Padmanabhapuram one can witness the fact that the temple bears the heritage of both its patron royale, Tirumalai Nayaka as well as Marthanda Varma whose figurines still adorn the temple. And the Goddess in the sanctum sanctorum will be holding a parrot just as the celestial Pandya Princess does in Madurai, with that suppressed smile, manda hAsa !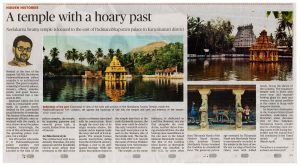 And before we move to matters musical, it is over to Sharat Sundar Rajeev to provide his narrative of this Temple at Padmanabhapuram along with the photos– read his blog post here which actually appeared in print in The Hindu.
Sharat Sundar Rajeev – The Hindu & his blog post – Tales from Travancore
And the personality of Marthanda Varma pervades even today (see Foot Note 3). And as to his master stroke in performing the Truppadidanam, his dying instructions to his successor may prove his credentials to one and all and would show why perhaps he was and is so revered even today. (See Foot Note 4)
Circa 1840 – the Musical Chapter of Goddess Anandavalli nee Meenakshi
The successors of Anusham Tirunal Marthanda Verma who ruled till modern India came into being, were:
Anusham Tirunal Marthanda Varma 1729–1758
Karthika Tirunal Rama Varma (Dharma Raja) 1758–1798
Avittam Tirunal Balarama Varma 1798–1810
Maharani Ayilyam Tirunal Gowri Lakshmi Bayi 1810–1815 (Queen from 1810–1813 and Regent Queen from 1813–1815)
Maharani Uthirattadi Tirunal Gowri Parvati Bayi (Regent) 1815–1829
Swathi Tirunal Rama Varma 1829–1846
Uthradom Tirunal Marthanda Varma 1846–1860
Ayilyam Tirunal Rama Varma 1860–1880
Visakham Thirunal Rama Varma 1880–1885
Sree Moolam Thirunal Rama Varma 1885–1924
Maharani Pooradam Tirunal Sethu Lakshmi Bayi (Regent) 1924–1931
Chithira Thirunal Balarama Varma 1931–1991
Uthradom Thirunal Marthanda Varma 1991– 2013
The 6th in the lineage above who came to occupy the Ivory Throne of Travancore was the musical composer Svati Tirunal who needs no introduction. And it was left him to the immortalize this Goddess by etching her on the fabric of our music by composing the beautiful composition 'Anandavalli' in the haunting melody of Neelambari.  Legend had already associated this sovereign known as 'gharbha srImAn' with the raga Neelambari, when Irayimaan Tampi the Royal Courtier composed 'Oomana thingal kidavo' as the lullaby for the baby King Svati Tirunal. 'Anandavalli' ranks on par with the other beautiful compositions in this raga and it is trifle unfortunate that it has not been rendered very frequently. Besides quite a few publishers/editors of Svati Tirunal's compositions classify this composition as a padam. Given the lyrics of the composition, attempting to class it as padam for the simple reason it is rendered slowly in cauka kAlam does not seem logical and for all practical purposes this composition is only a kriti.
We do not have any further information as to the background of this composition and one may perhaps just conjecture that this Maharaja perhaps on one of his frequent sojourns to the Padmanabhapuram Palace must have composed it in a trice. Be that as it may this bewitching composition in chaste Sanskrit, is replete with similes and other linguistic adornments.
The text and meaning of this composition runs thus.
 Anandavalli kuru mudam 
पल्लवि :
आनन्दवल्लि कुरु मुदमविरतम्
अनुपल्लवि
दीन-जन-सन्ताप-तिमिरामृत-किरणायित-सुहसे
धृत-शुक-पोत-विलासिनि जय परम
चरणं
जम्भवि-मत-मुख-सेवित-पद-युगले
गिरि-राज-सुते (अम्ब)
घनसार-लसित-विधु-खण्ड-सदृश-निटिले
शंभु-वदन-सरसीरुह-मधुपे
सारसाक्षि हृदि विहर दिवानिशं
  rAgam: nIlAmbari                                                                       tALam: Adi
shrI  svAti tirunAL viracita 
pallavi
Anandavalli kuru mudamaviratam
anupallavi
dIna-jana-santapa-timirAmrtakiraNAyita suhasE
dh.rtashukapOtavilAsini jaya param (Anandavalli)
caraNam
jambhavimatamukha sevita padayugaLe girirAjasutE ghanasAralasita
vidhukhaNDasad.rshaniTileshambhuvadanasarasIruha madhupEsArasAkShi h.rdi vihara divAnisham  || 1 ||
keshapAshajita sajalajaladanikare padapa"nkajasevaka-khedajAlashamanaika
paramacaturEnAshitAghacarite bhuvanatraya-nayike vitara me shubhamanupamam || 2 ||
shAradendurucima~njuLatamavadanEmunih.rdaya nivAsini cArukundamukuLopavara
radanE pArijAtatarupallava caranE padmanAbhasahajE hara mE shucam || 3 ||
Meaning:
Pallavi :
Oh Anandavalli! Grant me happiness without fail!
Anupallavi:
Your smile is like a ray of nectar which can wipe off the darkness of grief. O the one holding a young parrot! Hail!
Caranam 1:
One whose feet are worshipped by Indra, foe of Jambha; daughter of the king of mountains. One who is adorned with camphor on the crescent like forehead. You are like the bee to the lotus face of Shiva. O the one with lotus-like eyes. Always dwell in my heart.
Caranam 2:
Your long tresses surpass the water bearing collection of clouds. You are the only skilful one in dispelling the misfortunes of those who worship your lotus feet. One who has the glory of removing the afflictions of the three worlds. Please grant me insurmountable prosperity.
Caranam 3:
One whose face is beautiful like the charming autumnal moon; resides in the hearts of ascetics. One who has charming teeth like the beautiful jasmine buds and feet like the tender leaf of Parijata. O The sister of Lord Padmanabha! Dispel my grief!
 And one should for a moment savour the lyrics at 'dhruta shuka pota vilAsini' in the anupallavi for that marks the fact that the icon of Goddess Anandavalli sports a parrot, the only reference in this kriti which links the past of this Goddess, when once she was Meenakshi a full hundred years ago even prior to the times of Svati Tirunal. ( See Foot Note 5)
And it wasn't Svati Tirunal alone who had sung on this Goddess. The quite well own composer Nilakantha Sivan too had composed verses on this Goddess of Padmanabhapuram.
aiyndhu mOraaRu mIraindhu mIraaRu
mOraindhu mOrpatthumaana
ay mUnRu mOronRum aTcharamaga
manthram aruL vaDivamaana thaayE
ayndhu karanODu IraaRukaranaiyumInRa
ambikE inbha nidhiyE,   akhilaaNDa kODi pugazh magaraasiyaana
paramaanandha valli umaiyE
ஐந்து மோராறும் மீரைந்து மீராறும்
மோரைந்து மோர்பத்துமான
ஐமூன்று மோரொன்றும் அட்சரமாக
மந்திரம் அருள் வடிவமான தாயே
ஐந்து கரனொடு ஈராறுகரனையுமீன்ற
அம்பிகே இன்ப நிதியே அகிலாண்ட கோடி புகழ் மகராசியான
பரமானந்த வல்லி உமையே
 (Nilakanta Sivan from his "Anandavalli Dasakam"- See Foot Note 6)
Two clarifications are in order :
Older publications of Maharaja Svati Tirunal's kritis such as the one by Sri Sambasiva Sastri( see Bibliography) provide the tala of the composition as 'cempata' which in Kathakali too is a 8 beat cycle tala ( some give it as 16 beats as well, a multiple) with probably a difference in the kriya or the way the beat is struck/visually demonstrated.
To the best of my knowledge none of the publications including the very latest being Sri T K Govinda Rao's, provide the stala of this composition as Padmanabhapuram. There is a actually another ksetra known as Anandavallishwaram in Kollam, Kerala where too the Devi is named as Anandavally. Nevertheless given the facts such as the holding of the parrot by the deity and also the association of the dramatis personae to the shrine at Padmanabhapuram, this kriti can only be assigned to the Devi in that ksetra.
DISCOGRAPHY:
Sangita Kalanidhi Sanjay Subramanian, Vidvan Rama Verma and his disciple Vidusi Amruta Venkatesh have presented this composition in the public space. But for this blog I seek to present the version by Vidvan Dileep Kumar who sings two of the three caranas of this composition in this rendering of his:
And here is a brief excerpt of Sangita Kalanidhi Sanjay Subramanian singing the cittasvara section of the composition. The cittasvara section is not found notated in T K Govinda Rao's publication.
Audio & Visuals – See Foot Note 7
EPILOGUE:
The Kerala Royals are all but gone with the passing away of the last of them Utharadom Tirunal (see Foot Note 8) in 2013 and whoever survives from the very many branches are already commoners. Yet today the Royal composer's kriti and the emotions that it evokes convinces one that a visit at least once to that hallowed shrine in the backdrop of the verdant vELI Hills at Padmanabhapuram has to be made. And one can't but wonder what an ethereal experience it would be to sit, one autumn evening, perhaps during Navaratri on the banks of that emerald green water filled temple tank's stone steps with the dark sky lit with the autumnal moon, the grand pavilion at the centre resplendent with the oil lit lamps even while the soft fragrance of jasmine pervades the air suffused by a soft tanpura drone and one soulfully sings or listens to an enchanting rendering of this Neelambari composition! And I am sure as one dissolves oneself in the melody, the reverie would take us all the way starting from the 13th century when the Temple was perhaps built and on to the 17th century when Tirumalai Nayak consecrated his iconic Goddess Meenakshi therein and then to Marthanda Varma who thus in the mid-18th century changed Her name to Goddess Anandavalli and on to Svati Tirunal of 19th century who composed this beautiful piece and to that moment is time in the present to feel the ambrosial experience of extolling Her as "paramAnandavallI".
BIBLIOGRAPHY:
Manu Pillai (2015) – Harper Collins – 'The Ivory Throne' – Introductory Chapter- pp 1-20
Satyanathier (1924) – Oxford University Press- 'History of the Nayaks of Madura' – Chapter VIII pp 110148
Shungoony Menon (1878) – Higginbotham & Co – 'A History of Travancore from the Earliest Times' – Vol 1- Chapter II pp -112- 175
K Sambasiva Sastri (Editor)(1932)-Trivandrum Sanskrit Series No CXIII – "The Sangita Kritis of Swati Sri Rama Varma Maharaja" pp 101-102
T K Govinda Rao (2002) – Ganamandir Publications- 'Compositions of Maharaja Swati Tirunal'- Music Series VI pp 370-371
FOOT NOTES:
Sovereigns of yore have always invoked divinity to add legitimacy to their rule in one form or the other. Royal lineages, clans and dynasties have always invoked godhead and history is replete with examples. Rajeswari Ghose's – 'The Tyagaraja Cult' especially Chapter 9 titled 'Tyagaraja as Cult Typology and Legitimization of Power' is an illustrative text on this subject.
Ettuveetil Pillamar or the Lord of Eight Houses of Kerala and Madempimar were the Nair nobles who held sway at that point in time in the run up to the ascendancy of Marthanda Varma. Curiously they bear an uncanny resemblance to the Chieftains/feudatories of the Chola Kingdom of the 9th and 10th century AD pictured so beautifully by Kalki in his "Ponniyin Selvan", who held considerable sway and control over their overlord the Chola Kings. The Mazhavarayars of Ariyalur/Tirumalapadi, Sambuvarayar of Kadambur, Pazhuvettarayars of Pazhuvur, Malayamans of Tirukkoilur & others are the illustrated feudatories of the Colas.
Marthanda Varma was an iconic personality so much so novels and movies came to produced eulogizing him. C V Raman Pillai brought out a novel on him in 1891 adding a romantic angle as well to his history. A critical appraisal of the novel can be read here: https://wiki2.org/en/Marthandavarma_(novel)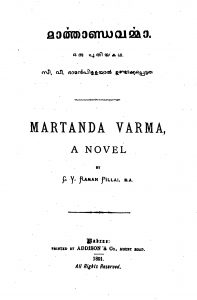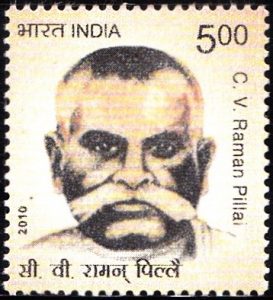 And just as how later in the 20th century 'Ponniyin Selvan" (of Kalki K Krishnamurthi) a historical novel with Arulmozhi Varman (later Raja Raja Chola I) as the protagonist went on to capture the imagination of the Tamil readers, Raman Pillai's Malayalam work too became a best seller. Raman Pillai's novel has been published by the Sahitya Akademi in Malayalam and along with the English and Tamil translations ( by Padmanabhan Tampy) as well which makes an interesting read.
A movie too was produced based on the novel which was released after a court battle over copyright, in 1933. One can read about it here:
https://www.thehindu.com/features/cinema/old-is-gold-marthanda-varma-1931/article4350814.ece
And Marthanda Varma and his exploits is poised to hit the screens once again as filming gets underway for the movie starring actor Rana Daggubatti, complete with visual special effects:
https://timesofindia.indiatimes.com/entertainment/malayalam/movies/news/rana-daggubati-set-to-conquer-mwood-as-king-marthanda-varma/articleshow/61654128.cms
And again much like how "Ponniyin Selvan" has been staged Raman Pillai's novel too has spawned stage versions:
http://www.newindianexpress.com/cities/thiruvananthapuram/2017/jan/23/cv-ramans-historic-romance-to-come-alive-at-sainik-school-kazhakootam-1562426.html
According to Shungoony Menon (page 175 of his work), when Marthanda Varma in 1758 AD was on his death bed, he ushered in his successor, being his nephew, the next King designate Karthika Tirunal Rama Varma and gave him his instructions which provide a glimpse of this great founder of the modern Kupaka Dynasty & his innermost thoughts for his land and his subjects. His dying instructions to his successor were :

There shall be no deviation whatever made to the dedication of the Kingdom to Sri Padmanabha Swamy and all further territorial acquisitions if done shall be made over to the Devaswom
Not a hair's breadth alteration or deviation shall be done to the established charities and institutions connected to the Devaswom
There shall be no dissension or quarrel in the Royal House
Expenses of the State should not be allowed to exceed the income at any cost
The Palace expenditure should be defrayed only from the profits of the commercial Department
And above all the friendship existing between the Kingdom of Travancore and the English East India Company shall be maintained at all costs and that full confidence should always be placed in the support and aid of that honourable association.
These six commands would show his great foresight, statesmanship and conviction without doubt.
For me 'Anandavalli' makes me reminisce on the similarly structured Neelambari composition 'karunAnda catura' of Kumara Ettendra which we featured in a blog post some time ago. The subject matter being Goddess Parvati and usage of words such as 'nitilE', kunda mukula radanE, padmanAbha sahajE or sAranga varada sahajE' seems to prompt the same, while few others might see a musical correspondence with 'shringAra lahari' of Lingaraja Urs.
Nilakanta Sivan has to his credit a number of Tamil compositions which were a rage once upon a time. Sivanai ninaindhu (Hamirkalyani), Enraikku Siva krupai (Mukhari), Navsiddhi Petrallum (Kharaharapriya), Sambo Mahadeva ( Bhauli), Ananda natanamaduvar ( Purvikalyani) and Teruvadeppo nenje (Khamas) are some of the kritis which were sung frequently and immortalized by the likes of Semmangudi Srinivasa Iyer, M S Subbulakshmi and D K Pattammal by their gramophone records. Sivan's original name was Subramanian and he changed his name due to his great devotion to this Lord Neelakantaswami of Padmanabhapuram. A play list of his compositions on YouTube can be heard/viewed here:
https://www.youtube.com/playlist?list=PLIikSmhrlA3p8JYBjEIQwa_fvrtVI6IJv .
The clippings have been sourced from Sangeethapriya and thanks are due to Sr TVG for his painstaking effort to record and collate recordings on the website. And some spectacular visuals of the Padmanabhapuram Palace, I would recommend the Flickr account of Manfred Sommer which you can access here:
 https://www.flickr.com/photos/asienman/sets/72157655931464592
and off course the Official web site :
http://www.keralaculture.org/padmanabhapuram-palace/297
The last royal died in 2013 and in its wake the treasures which lie in the vaults of the Lord Padmanabhaswami Temple is yet to be fully uncovered and settled.
https://www.telegraph.co.uk/news/obituaries/10528924/Sree-Uthradom-Thirunal-Marthanda-Varma-obituary.html